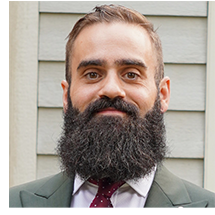 Curtis Spencer is the successful candidate for the Subhead Electrical Maintenance position. Curtis will start his new role on Monday, December 13, 2021.
Curtis joined UBC in February 2017 working on campus street lights before moving to the electrical controls crew where he took on both the green and teal zones. Curtis has vast experience in commercial and industrial settings, and has shown great leadership in how he deals with difficult conversations and complex situations.
Curtis has participated in continuing education by volunteering for the Expression of Interest Program (EOI) program and the Workplace Wellbeing Ambassador training. This term, Curtis was selected by his peers to be an employee representative on the Trades' Joint Occupational Health & Safety Committee (JOHSC). Curtis' positive attitude towards work and team members, and his support of co-workers is commendable and a quality we strive to foster in our leaders.