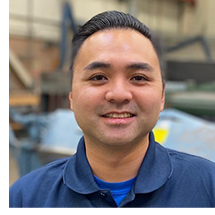 Raymond Lum is the successful candidate for the subhead metal worker position in Trades.
Raymond has been in the metal shop at UBC for seven years and has a wealth of knowledge and experience in layout, fabricating, assembling, welding and installation. 
Raymond was a participant in the Expression of Interest (EOI) program and is an advocate for safety by serving as a member of the Trades Joint Occupational Health and Safety Committee (JOHSC). He also supported the team as a Planon Buddy during the implementation of Planon.
Outside of work at UBC, Raymond is also in the Canadian Armed Forces as a Reservist.