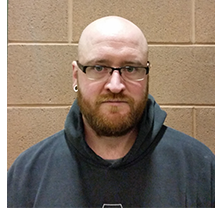 Kyle Whitehead is the successful candidate for the recent posting of Landscape Technologist Apprentice in Municipal Services.
Prior to starting work with UBC, Kyle worked for five years as a camera operator for CTV News. He first joined the Municipal Services team as a seasonal employee in January 2017, and then was hired to join the Soft Landscape team within Municipal Services in September 2017.
During his time in the Soft Landscape team, Kyle worked with most of the gardening crews before settling in with the team in Acadia Park.
Kyle enjoys working outdoors and learning new skills. He has proven to be a quick study, and along the way he's became proficient on many of the pieces of equipment, including mowers, tractors and backhoes. We're confident that he will continue to shine in this new role he has taken on.
Kyle begins his schooling at Kwantlen Polytechnic this September 2021. In the meantime, he's looking forward to working closely with our irrigation specialist John Neumann, as well as with Jeff Bosworth, our other recent Landscape Technologist Apprentice.